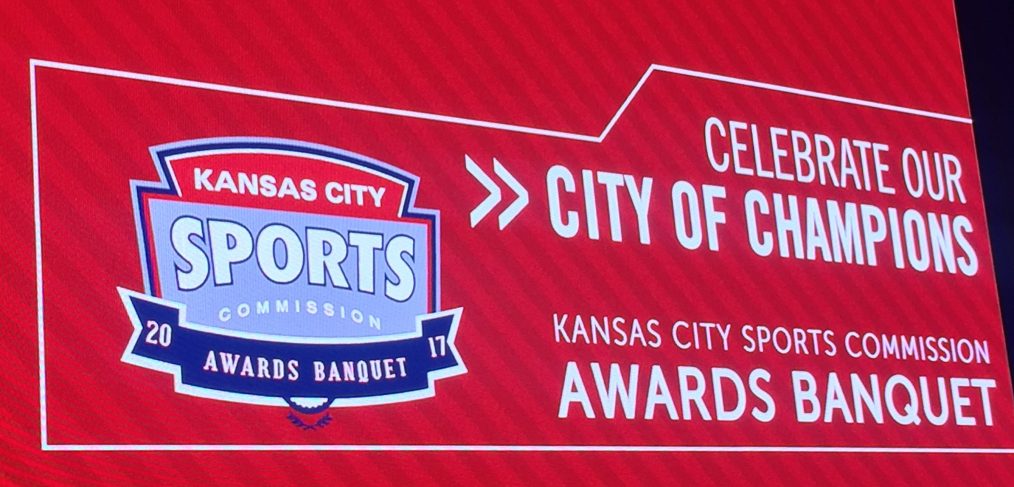 Rhycom Sponsors and Attends Kansas City Sports Commission Awards Banquet
Rhycom was once again honored to be a Silver Level Sponsor of The Kansas City Sports Commission Awards Banquet held on April 27. The sold-out event of more than 1,000 people recognized and honored outstanding individuals for their contributions and accomplishments in sports.
Winners of this year's event are listed below:
Coach of the Year – Eric Driskell, Blue Valley High School Football Coach, awarded posthumously
Community Champion – Dan Sudeikis, Team Host Chair of the Host Committee for Kansas City NCAA Basketball events
Sportswoman of the Year – Cassie Wait, Libero for the University of Kansas Volleyball
Sportsman of the Year – Kyle Zimmerman, Quarterback, Northwest Missouri State University
Executive of the Year – Dr. Bob Boerigter, Former Commissioner, Mid-America Intercollegiate Athletics Association
Wrapping up the evening was keynote speaker, Royals General Manager, Dayton Moore.
Rhycom is proud to be a Kansas City Sports Commission partner and provide creative and design support for the event. It was a wonderful night and we'd like to extend our congratulations to all the honorees!
Way to go, KCSC another successful City of Champions evening! #KCSCCHAMPIONS
You can volunteer or donate to the Kansas City Sports Commission here