George Clinical is a global research organization headquartered in Sydney, Australia, providing clinical trial services to pharmaceutical, biotech, medical device and diagnostic organizations.
Research
Rhycom conducted initial market and customer research to measure George Clinical's perception in the minds of current and potential customers as well as the most valuable traits they require.
Based on the research findings, the tagline "Science, Service and Solutions" was chosen to become the focal point of their messaging. Supporting messaging was developed to focus on their scientific leadership, therapeutic expertise in renal, oncology, and cardiology, and their strength in the Asia Pacific. The visual brand identity is clean and scientific, strongly positioning them in the marketplace.
Strategy
Working with a global client with operations in Australia, China, Hong Kong, South Korea, Taiwan, Malaysia, New Zealand, India, the United Kingdom, and the United States as well as servicing the European Union, Singapore, the Philippines, Indonesia, and the Czech Republic, requires us to be responsive and resourceful.

Project Management
Coordinating integrated campaigns, conferences, webinars, media relations, CRM integration, and website updates necessitate detailed project management and commitment from our team. We interface with many levels from C‑Suite, business development, internal marketing, IT, and operational teams responsible for countries and regions.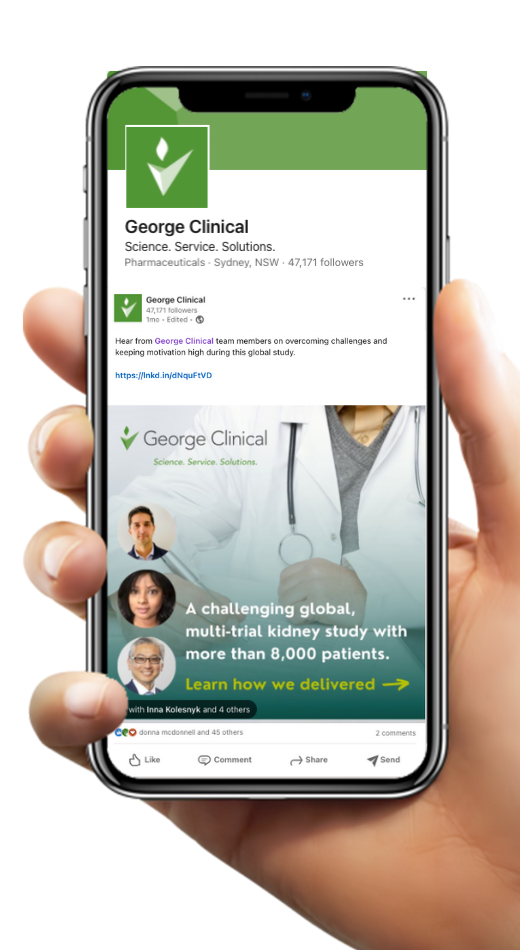 Social Media
LinkedIn and WeChat (in China), give us a global platform to target decision-makers in the clinical research sectors serving the pharmaceutical and biotech industries. We developed specific messaging and a custom content plan for George Clinical's social media focused on growing their reach and influence. We have focused on highlighting their scientific leaders and their Chief Medical Officer through integrated video and digital content to position them as thought leaders in their respective therapeutic areas.
This marketing plan has helped George Clinical grow their LinkedIn followers from 14k to 47k followers while increasing their global revenue by over 100 percent in the last 3 years.

Media Placement
George Clinical's global presence requires careful research to identify the right media channels in each market. We deploy strategic messaging through various digital platforms to reach targeted audiences across the globe in order to drive international awareness and qualified leads. Campaigns are constantly monitored, adjusted and optimized for performance.

Website, Content & CRM Integration
Our website design and development capabilities enable us to make rapid website changes, ensuring information is up-to-date and relevant—an imperative for fast-moving industries. Digital campaigns drive traffic to the website and leads are immediately captured in Salesforce. This complements our ongoing content marketing strategy consisting of conferences, e-newsletters, webinars, videos, KOL marketing, press releases, LinkedIn, and case studies to distinguish George Clinical as a thought leader in the market.
Proven ROI
At the start, Rhycom initiated customer research to refine George Clinical's brand and update its overall messaging. By focusing on precise messaging, comprehensive content channels and targeted media placements around key global hubs and industry events, marketing efforts drove significant website traffic. And in the first 3 years of the campaign, George Clinical's worldwide sales increased 100%.
Rhycom works seamlessly with our marketing and business development staff in the USA, APAC, and Europe. They have partnered with us on strategy, messaging, branding, web, lead generation, and advertising. Their healthcare expertise is a resource for us as we expand our brand and grow our business. The personal service they offer and the "take ownership to deliver" model they use, makes working with them easy, productive, and solutions-oriented. For marketing work, I would highly recommend Rhycom.


Sean Hart, Chief Business Officer