Everything You Need to Know About Logo Packaging
At Rhycom, we specialize in brand development—and, yes, that includes logos. We've created a lot of them! So, we know that once you have fallen in love with that perfect new logo, it isn't time to relax quite yet. Don't forget that your new logo will most likely be used in dozens of different ways requiring a number of different file types.
How do you make sure you have the correct file for every application? Does your app developer need a PDF or a PNG? Should you send your trade show vendor a JPG or an EPS? Are you feeling lost in a sea of acronyms yet? Don't worry. You're not alone, and we're here to help.
This is where a comprehensive logo package can make life easier for everyone. Just keep it simple and follow these parameters.
Who uses the file format and for what?
Your logo package will cover many uses. The key is knowing which file types are preferred by vendors, graphic designers, developers, or can be used for social media and presentations.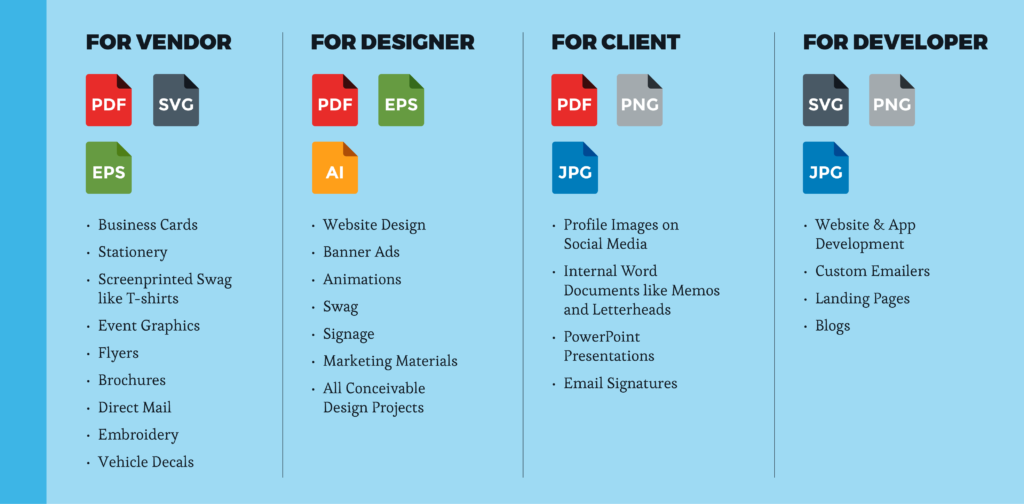 Where does the format work best?
Files types in the logo package fall into two broad categories: print and web.

Why is the format right for the job?
Various file types have the ability to be editable or scalable for large format printing, others have transparent or white backgrounds, and some are universal and easily opened.

Hey designers… want a quick reference on how to prep logo files for exporting?
Run down this checklist every time.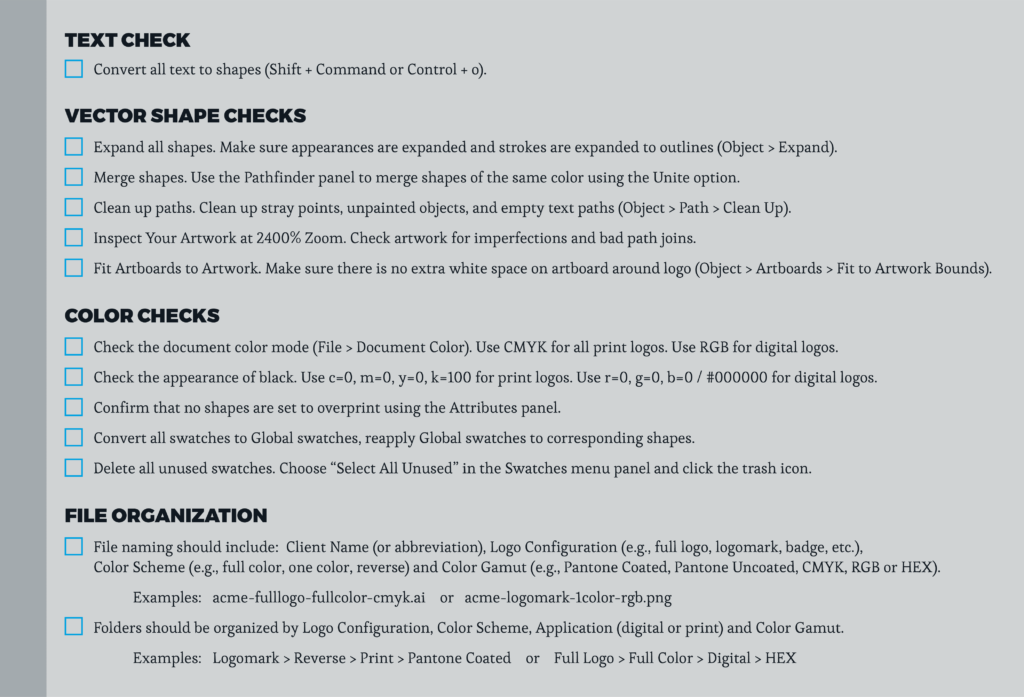 And don't forget to include one color and reversed logos for placement on dark backgrounds; any horizontal, vertical or square layout options; and any isolated logotype, logomark or badge that might be applicable.
All that to say…
Now would be a great time to reinvigorate your logo. Sometimes you need a revolution—an all new logo—and sometimes just an evolution or tweak. Or if you still think your logo is "the bomb," take the time to check to make sure you have a complete logo package ready for any possibility.
Source: Rhycom and thelogopackage.com