It's often said that the apple doesn't fall far from the tree, and that seems to be more true every day as it relates to me and my second son, Kai.
I've spent my entire career in advertising and have been fortunate to be a part of many successful brands. I've also witnessed my fair share of companies who unfortunately struggle to find their core purpose and reason for being. The short-term demands of running a business get in the way of defining the relevant mission and the promise to customers. I've seen what seems to work. And what doesn't.
My son, Kai, is a brand strategist for an international digital marketing agency. He's responsible for helping major brands figure out why customers should care about their products and what messaging would work best to help make that connection.
The point of all of this is, as much as I wish I had taught him this somewhere along the way, he already sees that brand simplicity is the key to success. He's always sending me articles and examples of simple, yet brilliant, marketing work. It's so interesting to see him grasp how hard it can be for companies to get there, but how rewarding it is when they nail a simple idea.
And when you stop to think about it, the great brands everyone seems to talk about in everyday life, always seem to just get things right, usually because they have a simple idea that they can make simple for us to understand. This is the importance of brand simplicity.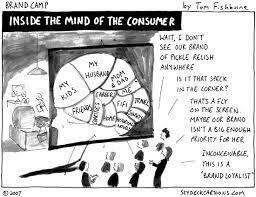 I love this cartoon I found quite a few years ago. The pickle relish company executives are mortified to learn one of the heavy users really isn't keeping their brand of pickle relish top of mind. Not even close. And not only is the pickle relish not showing up (cuz' it is pickle relish after all), when this brain DOES want to access the recessed pickle relish file (most likely only when they are standing in the grocery store choosing from one of twelve different relish brands), the pickle relish company might be making things overly complicated because they failed to establish a simple connection with the brand.
Does your company describe your "relish" like this?
Aunt Emma's pickle relish is produced in Pickletown, Michigan by the Slater Family who has perfected their secret recipe to bring you a delish, organic, sweet relish perfect for all occasions and available in bulk, squeeze bottles and individual serving packets. Ask your grocer for Aunt Emma's pickle relish.
It's very common and pretty easy to try to be all things to all people. If you feel like that is how you are trying to describe your company, see if you can work to pin down the "one thing" that you stand for in the mind of the consumer. When your customer's busy brain does pull up your company's file, what will it say?
Here are a few examples of brands that have a simple promise and make it easy for me to file and connect with them when I'm ready to buy:
GEICO: Save 15% in 15 minutes…and they promote insurance in a way that is actually interesting. Go figure.
Corona: Chill beer. Yup, it's that simple. Every ad just needs to show a beach and Corona bottle and you get what the brand is all about. They stand for something, not everything.
REI: High quality outdoor gear for real outdoorsmen. And I'm one of them because I'm an REI Co-op member. At least that's what they consistently help me to believe.
Chick-Fil-A: Hands down the best chicken sandwich when I'm on the go. And they just happen to deliver the goods with friendly service—"my pleasure!"
Subaru: The car for outdoorsy-types who own a big dog. It's really that specific.
Well, by now you get the idea. Marketing professionals have a variety of tools and techniques to help you research and identify what truly matters with your customers at the end of the day. If nothing else, give your customers more clarity and less confusion when it comes to your brand, what you do or what you sell. The secret sauce is not more sauce. It's simply brand simplicity.