The November 8th general election is fast approaching, and you can't turn on the TV without seeing a political ad or multiple political ads. The political advertising window opened on September 10th and will continue to flood the airways until election day on November 8th. Our country is divided; thus, the dollars are flowing in from all political sides trying to influence the country. According to AdImpact, the 2022 political cycle is trending to hit $9.7 billion in campaign spending, which is outpacing the record-breaking spend of 2020, when we were electing a president.
Almost $10 billion translates to A LOT OF COMMERCIALS, which presents a challenge for other, non-political television advertisers. Broadcast and cable TV still attract two-thirds of spending, and connected TV is claiming a piece of that pie as a new channel this year.
Let's look at where all the spend is coming from and what you can do as an advertiser to protect your schedules and maintain your goals.
How Does It Work?
Political windows are 45 days prior to the primary election and 60 days prior to the general election. During this period, the lowest unit rate charge is in effect for candidates. This means that each candidate is entitled to purchase a broadcast advertising schedule at the lowest unit rate charged to any advertiser on that station during that daypart.
If a station lets one candidate buy time, they must let every candidate buy time at the same rate for equal access to inventory.

For example, if a candidate wants a commercial on the 5 p.m. news and most non-political advertisers paid $250 for a commercial at that time, but one non-political advertiser paid $125 per commercial, then any candidate purchasing a spot at that time would pay $125 per commercial.

The crazy thing is that the non-political advertisers who paid $250 per commercial would be preempted to make room for the political ads, even though they paid more.

The implication for non-political advertisers is that these political ads limit available inventory, thus driving up costs and causing lots and lots of preemptions.
Where Does the Money Come from?
Candidate money, known as hard money, is spent by qualified state or federal candidates. Dollars are monitored by the Federal Election Committee (FEC) and are subject to rules and maximums. These investments are eligible for matched federal funds. Candidate money is entitled to receive the lowest unit rate charge benefit. See above for a description.
Political Action Committee (PAC)/issue money (e.g., ActBlue, WinRed, Committee For A Brighter San Francisco Future, etc.), known as soft money, is not always traceable to a specific candidate. These dollars are not subject to the same rules as candidate money since they are tied directly to a specific candidate. These groups have incredible amounts of money and can easily exhaust the available inventory. However, these groups are not eligible to receive the lowest unit rate charge benefit, so are the most lucrative for the stations.
Projected Spend by State
While political activity varies by market, the bigger states typically have more competitive races, thus higher political spend. Five states (Arizona, California, Florida, Georgia and Pennsylvania) will see 1/3 of total political spending.
Projected Political Spend by Geography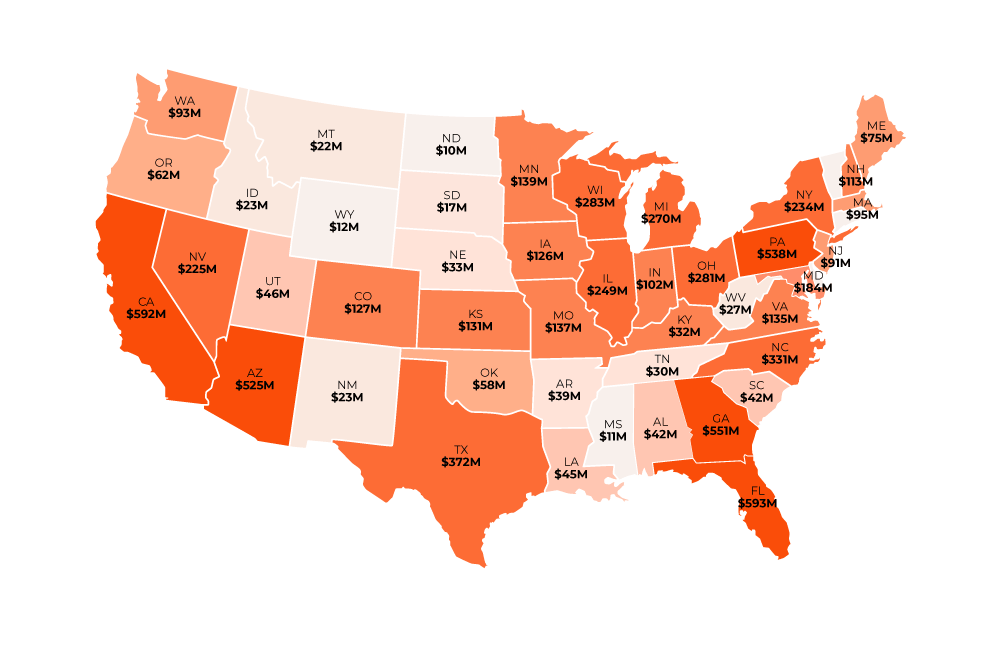 What Should Advertisers Do?
Advertisers will see more makegoods than usual during political windows, but with careful planning broadcast schedules can remain intact with only minor interruptions. Consider the following to ensure a strong presence during this political season:
Purchase inventory early to secure placements and fair rates. Rhycom, for example, will start planning for the 2024 election with our 2023 media plans. Even years will always be tricky with the election cycles and the Olympics.

Ensure strong vendor relationships. With good relationships, reps are willing to fight hard to avoid preemptions and protect the integrity of schedules. We love our reps.

Monitor buys frequently to manage preemptions. Stewardship of schedules is important during election windows. When spots are preempted, it is important to be aware of them immediately, so they can be rescheduled.

Enjoy the odd years. In 2023 rates will be lower, and it will be much easier for schedules to clear.
This almost $10 billion political investment is becoming the new normal making political cycles increasingly arduous to manage, but with a sound strategy, advanced planning and daily management, non-political advertisers can still meet their goals during this madness.
SOURCES — Disney Ad Sales, CBS, WISC, Tegna Station Group, Gray Television-Digital-Mobile, AdImpact 2022 Political Spending Projections Study